BIO Open Lab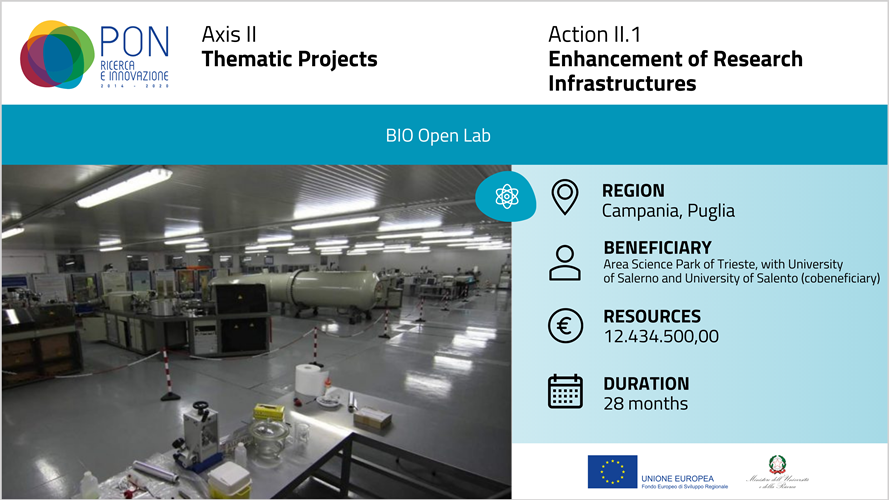 ITA | ENG

Project
BIO Open Lab, lasting 28 months, aims to enhance technological capability in structural biology, genomics and mass spectrometry, following one of the most advanced approaches in the Life Sciences: "4P Medicine", i.e. Predictive, Preventive, Personalized and Participatory. The scientific and technological enhancement of the research infrastructure will involve the establishment of a Next Generation Sequencing (NGS) facility that will increase, in particular in the field of genomics, the potential of research into molecular and biological mechanisms, with significant applications in the fields of predictive medicine and health. In addition, the use of advanced mass spectrometry and electron microscopy techniques will make a significant contribution to the development of advanced nanotechnology-based diagnostic techniques.
Financial Resources
The project received 12.434.500,00 euro in funding from the NOP Research and Innovation 2014-2020 under the action "Enhancement of Research Infrastructures" which supports projects aimed at the upgrading of 18 research infrastructures identified as priorities by the Ministry of University and Research in the PNIR 2014-2020, covering one or more ESFRI (European Strategy Forum on Research Infrastructures) areas and having a significant impact on the trajectories of the National Smart Specialization Strategy.
Impact on the Territory
The beneficiary of the funding is the Scientific and Technological Research Area of Trieste – Area Science Park, with University of Salerno and University of Salento as co-beneficiaries. The project falls within the "Health" area, with a potential impact on the "Smart and Sustainable Industry, Energy and Environment" area, in particular with respect to the "Technologies for Biomaterials and Bio-Based Products and Biorefineries" trajectory, thanks to the analysis of enzymes used in advanced biotechnological processes and biorefineries.
Area Science Park in Trieste is part of CERIC-ERIC, European Research Infrastructure Consortium, the European reference point for research in structural biology and biomedicine. This project will allow the Italian partner facility to expand and consolidate its role, in particular in the fields of electron cryomicroscopy, mass spectrometry, new structural investigation techniques, genomic and epigenomic investigation methodologies up to the creation of a dedicated Computing Centre. Besides Trieste, the project includes activities outside the Programme Area, with benefits for the target regions where co-applicants are based. In addition, the co-applicants will be granted free and open access to the CERIC-ERIC research infrastructure network, in line with the objectives identified by the ESFRI Roadmap in terms of investment aid to "Analytical Research Infrastructures" (ARIs).
Further information:
Bio Open Lab selected for funding for greater impact in the area of health, nutrition, quality of life
---
26/04/2021
torna all'inizio del contenuto