Hydro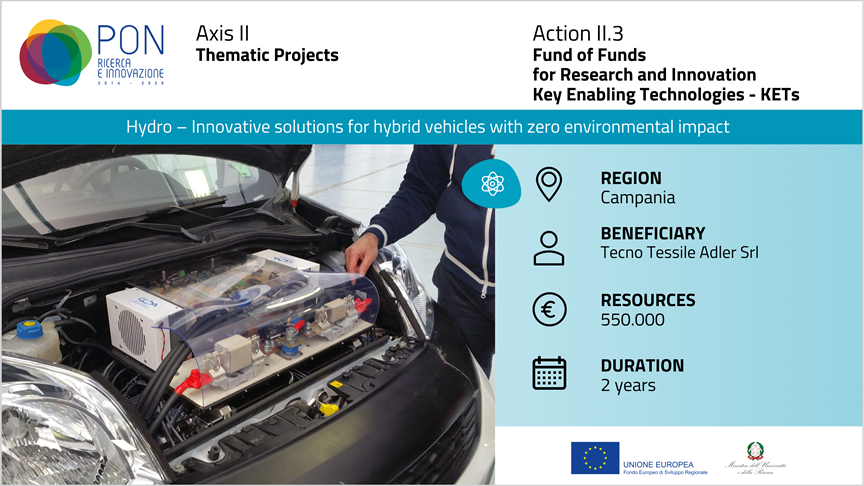 ITA | ENG

Project
Hydro aims to identify, develop and build innovative solutions for hybrid vehicles with zero environmental impact. A demonstrator will be built by installing all the necessary components into a standard production vehicle, taking into account the constraints related to its layout and installation into the vehicle system and of the functional requirements of the newly installed components. The design and development part will be validated through experimental activities (bench tests and road tests) aimed at the definition of technological constraints, the optimization of the process parameters and at the experimental validation of the components. The development of FCEVs (Full Cell Electric Vehicles) will require significant advances in Fuel Cell Technology and will involve important architectural changes that will have a major impact on production systems.
Financial Resources
The project received 550.000 euro from the NOP Research and Innovation 2014-2020 under the action "Thematic Projects - Key Enabling Technologies - KETs" through the Fund of Funds for Research and Innovation managed by the European Investment Bank (EIB) and established to increase investment in research and development. The EU resources available to the Fund of Funds are invested through one or more financial intermediaries and may take the form of loans, equity or quasi-equity, or equivalent instruments.
Impact on the Territory
This research project falls within the Smart Specialization area "Sustainable Mobility" and within the enabling technologies "Advanced Materials" and "Advanced Manufacturing Systems". The beneficiary of the funding is Adler, a well-established company, well positioned in the sector and well rooted in Southern Italy. Adler aims to face the strong competition in the sector with the technological innovation of products and to take a position in the high-end sector of the market.
Further information (in Italian):
Adler Hydro, in Campania lo sviluppo del prototipo italiano di auto a idrogeno (da La Stampa, 10 giugno 2019)
Adler sviluppa Hydro, prototipo alimentato da fuel cell (da Il Sole24Ore, 4 giugno 2019)
---
21/04/2021
torna all'inizio del contenuto