InnovaVector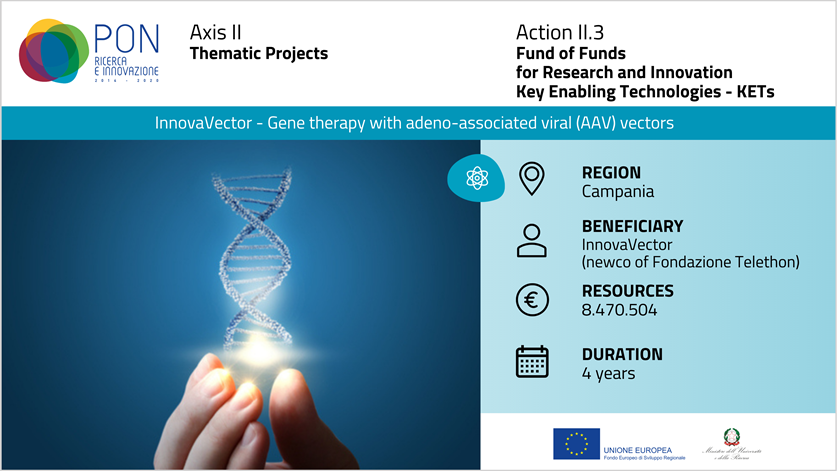 ITA | ENG

Project
The InnovaVector project falls within the field of gene therapy with adeno-associated viral (AAV) vectors and aims to create a GMP facility for the GMP manufacturing of AAV vectors for clinical development, licensed for the production of gene therapy investigational medicinal products. Viral vectors are defined as GMP-grade when they are produced in compliance with the Good Manufacturing Practices set by EU directives.
Gene therapy with adeno-associated viral vectors is proving to be an effective therapeutic strategy, as demonstrated by the extensive use of these vectors in a number of clinical trials and by the products that have recently reached the US and EU markets. However, the main limit to testing AAV-based therapies in humans is the availability of GMP-grade vectors for clinical trials with very long release times. The project has the ambition to overcome this limit and to position itself in a market that has not so far been able to meet the growing global demand. The global gene therapy market is expected to grow at a rate of 33.3% during the period 2017-2023.
Financial Resources
The project obtained 8.470.504 euro from the NOP Research and Innovation 2014-2020 under the action "Thematic Projects - Key Enabling Technologies - KETs" through the Fund of Funds for Research and Innovation managed by the European Investment Bank (EIB) and established to increase investment in research and development. The EU resources available to the Fund of Funds are invested through one or more financial intermediaries and may take the form of loans, equity or quasi-equity, or equivalent instruments. Specifically, this project received risk finance investments in the form of equity and quasi-equity.
Impact on the Territory
The recipient of the funding is InnovaVector, a newco of Telethon, which will bring together the know-how and expertise acquired in more than 15 years of activity by the Vector Core research unit. The project's investment plan covers the entire Business Plan, focusing mainly on the startup phase. Four full-time (GMP qualified) researchers are expected to be employed starting from 2019 and for the entire duration of the Plan to support research activity aimed at the industrialization of the GMP manufacturing of AAV vectors. The project falls within the Health Area and the enabling technologies Industrial Biotechnology and Nanotechnology.
Further information (in Italian): 
Nascono 2 nuove start-up di ricerca biomedica, 16 mln fondi
(da Ansa, 30 settembre 2020)
Equiter e Fondazione Telethon danno vita a 2 startup di ricerca biomedica
(da Startupitalia.eu, 5 dicembre 2019)
Nascono due nuove startup innovative di ricerca biomedica
(da Vita, 3 dicembre 2019)
Dal fondo ricerca e innovazione (rif) e da Fondazione Telethon 16 milioni di euro per la ricerca
(Comunicato stampa di Telethon, 3 dicembre 2019)
---
21/04/2021
torna all'inizio del contenuto