NGD - Next Generation Diagnostic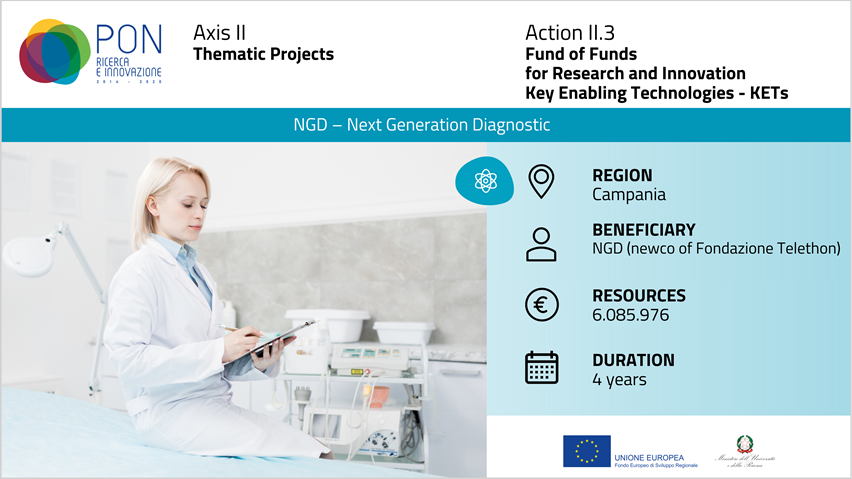 ITA | ENG

Project
The Next Generation Diagnostic - NGD project will use Next Generation Sequencing (NGS) technologies to improve diagnosis rates for rare genetic diseases and to define an approach based on the analysis of RNA of biopsy specimens from cancer patients. The aim is to standardize diagnostic technologies based on molecular genetic testing in order to offer a rapid and accurate diagnosis and, through the identification of biomarkers, provide a personalized and targeted treatment of individual patients.
Financial Resources
The project received 6.085.976 euro in funding from the NOP Research and Innovation 2014-2020 under the action "Thematic Projects - Key Enabling Technologies - KETs" through the Fund of Funds for Research and Innovation managed by the European Investment Bank (EIB) and established to increase investment in research and development. The EU resources available to the Fund of Funds are invested through one or more financial intermediaries and may take the form of loans, equity or quasi-equity, or equivalent instruments. Specifically, this project received risk finance investments in the form of equity and quasi-equity.
Impact on the Territory
The beneficiary of the funding is NGD, a newco of Telethon, which will bring together the know-how and expertise acquired by researchers at Tigem, the Telethon Institute of Genetics and Medicine located in Pozzuoli (near Naples), in genetics, genomics and bioinformatics research. The startup has developed an investment plan for the two-year period 2019/2020 which involves the recruitment of 6 new full-time researchers to support research activity aimed at the industrialization of advanced NGS diagnostic methods and of applications for pathological anatomy. The project falls within the Health Area and within the Industrial Biotechnology enabling technologies.
Further information (in Italian):
Nascono 2 nuove start-up di ricerca biomedica, 16 mln fondi
(da Ansa, 30 settembre 2020)
Equiter e Fondazione Telethon danno vita a 2 startup di ricerca biomedica
(da Startupitalia.eu, 5 dicembre 2019)
Nascono due nuove startup innovative di ricerca biomedica
(da Vita, 3 dicembre 2019)

Dal fondo ricerca e innovazione (rif) e da Fondazione Telethon 16 milioni di euro per la ricerca
(Comunicato stampa di Telethon, 3 dicembre 2019)
---
21/04/2021
torna all'inizio del contenuto