DEMETRA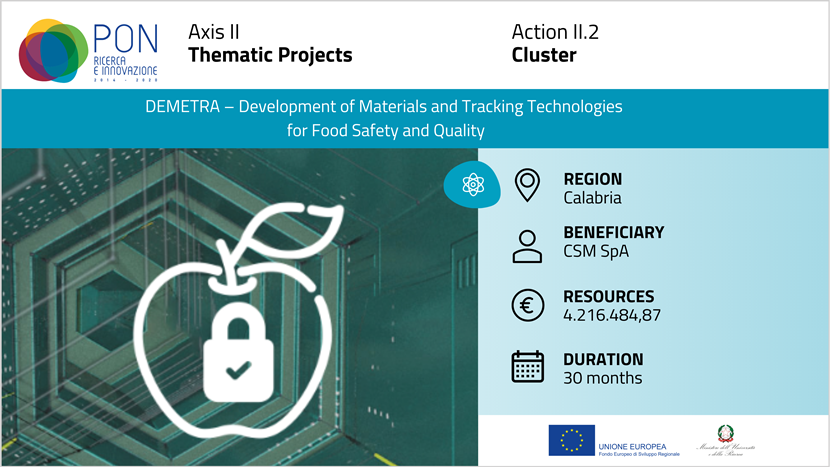 ITA | ENG
Project
"DEMETRA – Development of Materials and Tracking Technologies for Food Safety and Quality" aims to improve food safety and quality by developing innovative technologies for the treatment, marking and tracking of food products. The development activities are structured around 3 main lines that will be eventually integrated into a single demonstrator:
Advanced technologies for the treatment of materials and parts that have direct contact with food in treatment and packaging systems in order to improve cleaning of the systems and prevent the release of potentially harmful substances to food, increase safety of food and productivity of the food industry, reduce the consumption of water required for cleaning, and minimize the impact on the ecosystem.
Information systems based on Blockchain architecture and advanced cryptographic solutions to track all the key events relating to the production, processing, transport and sale of products, thus contributing to the safety of the food chain.
A highly innovative marking system based on objects that, as a result of their microstructure, are intrinsically non-reproducible and that, applied on the package, univocally associate a specific product with the information contained in the tracking system, in line with existing anticounterfeiting policies.
Financial Resources
The project, lasting 30 months, was funded by the NOP Research and Innovation 2014-2020 under Axis II "Thematic Projects", action "Clusters", which finances industrial research and experimental development projects in the 12 specialization areas identified by the National Research Programme (NRP) 2015-2020, in particular in the "Agrifood" specialization area. For the implementation of this initiative, a budget of 4.216.484,87 euro was allocated to the following beneficiaries forming the public-private partnership:
CSM SPA (lead partner)
University of Calabria
Ecor International
Poste Italiane
Net Service
Impact on the Territory
This project answers the need for advanced technical-scientific solutions to be used not only in the Agrifood sector: introduction of innovative materials, surface engineering, advanced logistic systems, i.e., enabling assets for technological innovation. The project will lead to the development of complex process-product methodologies and systems to be made available to the production system in the south of Italy, in particular in the region of Calabria where the food sector is a key element of the regional economy. Significant positive effects are expected in terms of consumer protection and shopping experience, traceability of product origin, responsibility of supply chain operators, security and efficiency in information accessibility, also with the introduction of a specific quality mark for companies that will adopt the systems developed during the project. The target users will be the supply chain and SMEs, for which technological growth is the key to improving competitiveness in Italy and abroad as the use of tracking technologies will certainly affect their sales capacity.
---
26/04/2021
torna all'inizio del contenuto