IDEHA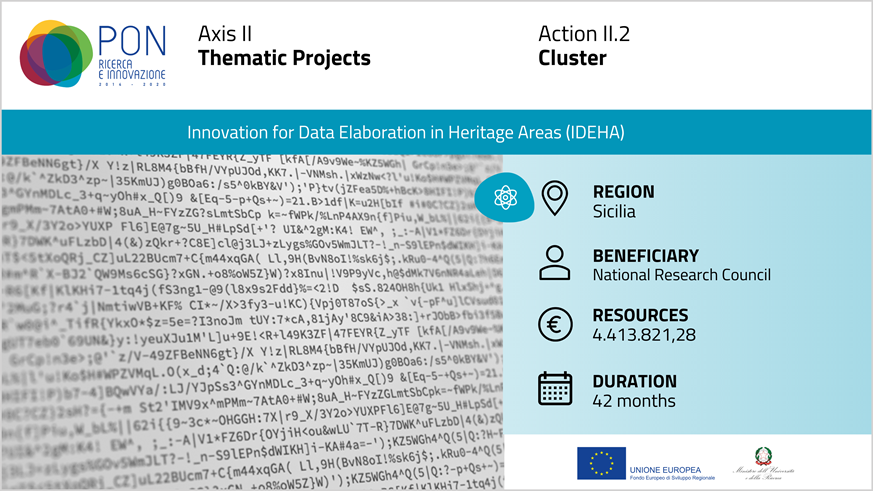 ITA | ENG


Project
The Cultural and Creative Industries sector contributes significantly to the generation of economic wealth in advanced economies. Although Italy has recently recorded interesting growth performances, the potential of a landscape and cultural heritage that has few equals in the world is still unexplored.
In this perspective, digital innovation is a great opportunity to mark a turning point in the promotion of Cultural Heritage. The project falls within this context and aims to add value to the (strategic) use of digital innovation to support the digital tourist.
Specifically, IDEHA (Innovation for Data Elaboration in Heritage Areas) aims to create an open IT platform for Cultural Heritage combining digital content from traditional repositories with real-time information generated by users or environmental sensors. The platform will be able to aggregate, process and understand data by using the latest learning technologies to create services for different users (technicians, researchers, tourists, etc.) profiled through specific multimodal applications and to be used on a large scale on different cultural sites, large or small, all across the Country.
Financial Resources
This 42 month project was funded by the NOP Research and Innovation 2014-2020 under Axis II "Thematic Projects", Action "Clusters", which finances industrial research and experimental development projects in the 12 specialization areas identified by the National Research Programme (PNR) 2015-2020, in particular in the "Cultural Heritage" specialization area. For the implementation of this initiative, a budget of 4,413,821.28 euro was allocated to the following beneficiaries forming the public-private partnership:
National Research Council
Engineering Ingegneria Informatica SPA
University of FLORENCE
University of Modena and Reggio Emilia
University of Palermo
University of Bologna
2038 Innovation Company Srl
Demetrix Srl
Center for Advanced Studies, Research and Development in Sardinia
Innovaway Spa
Impact on the Territory
Digital evolution has produced irreversible changes in the way culture and tourism are enjoyed, affecting the accommodation and hospitality sector, the distribution and sales channels, and the organization and logic behind the promotion of tourism and geographical areas. It is therefore essential to create and strengthen scientific and production skills in the field of advanced ICT solutions to ensure a controlled management of Cultural Heritage while enhancing the experiential aspect of tourism. In this perspective, the project aims to create an intelligent open source system for the connection of data which could become a reference in the Cultural Heritage Science sector supporting:
the creation of value-added applications and services for tourism and the enhancement and territorial development of Italy's Southern regions;
the creation of innovative solutions for the use and conservation of Cultural Heritage including through knowledge and technology transfer between research centres and SMEs;
more effective planning and rationalization of Cultural Heritage interventions.
The project results, verified and perfected through experimentation, will comply with interoperability standards and will be designed to offer enabling software modules (enablers) in Open Source that implement technology services to be used by third parties to create applications for the Cultural Heritage sector. This approach has already been successfully tested in the European FIWARE technology platform, to which the project will provide additional sector-specific modules (specific enablers).
Further Information:
Un progetto per la fruizione della Tonnara di Favignana (in Italian)
(from Corriere Nazionale, 17 July 2021)
Favignana, alla Tonnara Florio un progetto di fruizione sostenibile (in Italian)
(from TP24, 25 June 2021)
Sicilia: studi per valorizzare Tonnara Florio a Favignana (in Italian)
(from Ansa, 24 June 2021)
---
18/08/2021
torna all'inizio del contenuto