UNIHEMP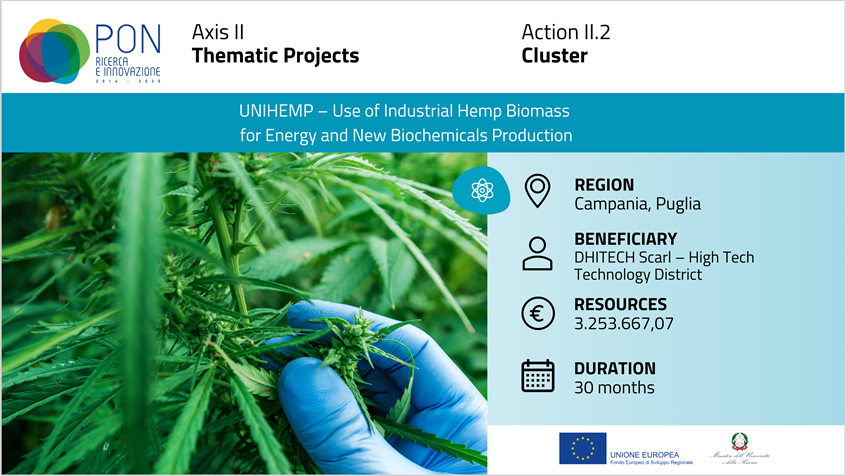 ITA | ENG

Project
"UNIHEMP – Use of Industrial Hemp Biomass for Energy and New Biochemicals Production" aims at creating a technology platform for the exploitation of waste from hemp crops to be used in the production cycle of new biochemicals for the manufacturing, cosmeceutical and renewable energy sectors, in place of other materials that are produced mostly using polluting methods. In line with the "Europe 2020" and "Innovating for Sustainable Growth: a Bioeconomy for Europe" strategies, the project intends to develop a sustainable, low environmental impact industrial model which combines primary production, scientific-technological know-how and innovation.
Specifically, the objective is to generate a circular economy process around the hemp supply chain focusing on the use of sustainable biological resources and their conversion (using waste streams) into value-added products (biochemicals and bioenergy), in the broader context of a European advanced bioeconomy which is a key element for a smart and green growth.
Financial Resources
This 30-month project was funded by the NOP Research and Innovation 2014-2020 under Axis II "Thematic Projects", action "Clusters", which finances industrial research and experimental development projects in the 12 specialization areas identified by the National Research Programme (NRP) 2015-2020, in particular in the "Green Chemistry" specialization area. For the implementation of this initiative, a budget of 3.253.667,07 euro was allocated to the following beneficiaries forming the public-private partnership:
DHITECH Scarl – High Tech Technology District
Manifatture Sigaro Toscano SpA (MST)
Ekuberg Pharma Surl
Council for Agricultural Research and Agricultural Economics Analysis (CREA)
Avantech Group SRL
University of Modena and Reggio Emilia
Impact on the Territory
In line with the European Commission's "Innovating for Sustainable Growth: a Bioeconomy for Europe" strategy, which promotes the development of a circular and biosustainable economy in the Member States, the UNIHEMP project will contribute to the launch of a bioeconomy process in the regions of Campania, Puglia and Sicily, starting from the agronomic sector (sustainable and environmentally-friendly agriculture) up to the chemical-industrial sector (production of biochemicals) and energy (biorefineries). The exploitation of the waste by-products from the hemp supply chain will lead to the creation of complementary business areas with a high scientific and technological content, with the aim of bringing profound innovation to economic sectors such as agriculture, manufacturing and cosmetics-pharmaceuticals. The valorization of this model, integrated with the environment and the production capacity of the territory, on the other hand, will continue for a long time through a network of companies interested in producing energy and biochemicals, made up of private companies and public research partners.
Further information (in Italian):
Scheda del progetto su sito UNIHEMP
CREA mission: innovare in agricoltura (Donnainaffari.it, 23 ottobre 2020)
Breakthrough discovery: cannabis compound 30 times stronger than THC (Healtheuropa.eu, 10 gennaio 2020)
---
26/04/2021
torna all'inizio del contenuto