University of Catanzaro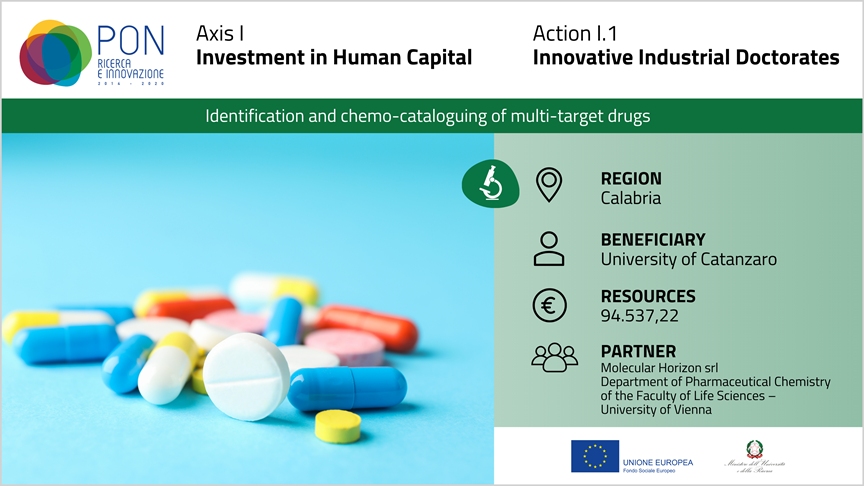 ITA | ENG

Project
"Identification and chemo-cataloguing of multi-target drugs" aims at the identification and chemo-cataloguing of molecules having modulatory activity against multiple therapeutic targets. The compounds will be selected from known drugs, from substances with biological activity but whose therapeutic target is unknown, from molecules of natural origin and from components of waste products from the Calabrian agrifood chain. The use of these sources will bring advantages such as a favourable toxicological profile, will allow the identification of one or more molecular targets, will contribute to the rationalization of possible side effects and may also suggest new therapeutic uses (drug repurposing), and the potential valorization, of waste products from the agrifood industry. The identified compounds and their pharmacodynamic characteristics will be catalogued in a web database accessible through a specific user interface, the development of which will be an integral part of the research project. For each of the selected compounds, potential phase I metabolites will be generated which will undergo the same pharmacodynamic analysis as the precursors and will then be catalogued.
Financial Resources
The project was funded by the NOP Research and Innovation 2014-2020 under Action Innovative Industrial Doctorates, Cycle XXXIII - Academic Year 2017-2018. For the implementation of this initiative, the University of Catanzaro received a budget of 94,537.22 euro and established a three-year doctoral scholarship in Life Sciences within the Department of Health Sciences.
Impact
The project has several innovative elements, the first being the drug development paradigm which goes beyond the traditional "one drug-one target" paradigm to follow the emerging multi-target drug discovery (MTDD) paradigm that allows the identification of molecules able to modulate multiple therapeutic targets. This could be particularly significant for complex diseases such as cancer which requires next generation therapeutic and protective drugs of natural origin. The second element of innovation is the therapeutic use of substances able to interact with multiple biological targets related to the same disease. This strategy can ensure both better efficacy and a reduction in side effects, thus leading to positive outcomes. The third element, of great industrial interest, involves drug repurposing. The rationalization of side effects, including through the study of metabolites, and the identification of potential therapeutic targets are tools that have only recently begun to receive considerable interest.
The project includes a 6-month placement at Molecular Horizon srl, a company based near Perugia and specializing in the production of database management software solutions and automated methods for the interpretation of experimental data , and a 10-month placement at the Department of Pharmaceutical Chemistry of the Faculty of Life Sciences at the University of Vienna involving research on the development of software solutions for pharmacophore-based virtual screening.
---
11/08/2021
torna all'inizio del contenuto