Railcraft, an innovative aerial platform prototype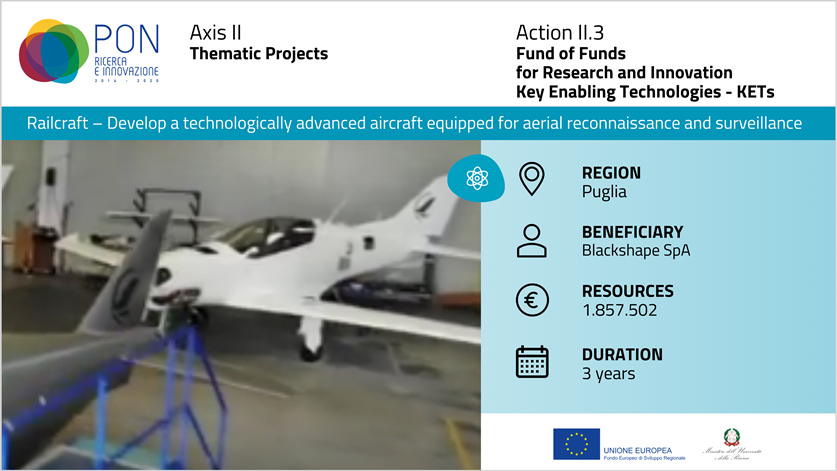 ITA | ENG

Project
Railcraft intends to develop a technologically advanced aircraft equipped for aerial reconnaissance and surveillance as well as for pilot flight training. Specifically, an innovative aerial platform prototype will be developed with two objectives:
the development of an aircraft for territorial monitoring, equipped with wings and fuselage made of carbon fibre, and having specific characteristics in terms of weight, installed power, wing surface, payload and performance. The aircraft can be operated by a pilot/automatic flight control system or by a remote control flying system;
the development of avionics, control systems and land monitoring instrumentation, as well as systems for (real-time) data collection, storage and transmission.
Financial Resources
The project received 1.857.502 euro in funding from the NOP Research and Innovation 2014-2020 under the action "Thematic Projects - Key Enabling Technologies – KETs" through the Fund of Funds for Research and Innovation managed by the European Investment Bank (EIB) and designed to increase investment in research and development. The EU resources available to the Fund of Funds are invested through one or more financial intermediaries and may take the form of loans, equity or quasi-equity, or equivalent instruments.
Impact on the Territory
The research project falls within the Smart Specialization area "Aerospace" and involves the enabling technology "Advanced Materials". The beneficiary of the funding is Blackshape, an innovative startup specializing in the production of light sport and recreational aircraft (LSA) made entirely of carbon fibre and market leader in the light two-seat tandem aviation segment. For the implementation of the project, the company will hire eight highly qualified professionals from the region. The aerospace/aeronautics sector is strategic for the economy of Puglia and it is realistic to expect that this project will generate a significant return in terms of related activities in the reference sector.
Further information:
Sito del progetto (in Italian)
MIUR, investing in innovative companies southern italy
(Fi-compass, 27 settembre 2019)
Intervista a Luciano Belviso, CEO di Blackshape, che presenta il progetto Railcraft (in Italian)
---
21/04/2021
torna all'inizio del contenuto