SESCO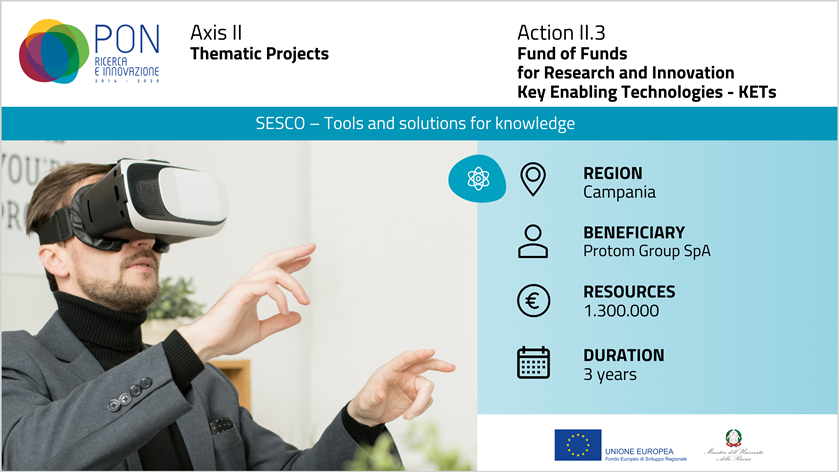 ITA | ENG
Project
"SESCO-Tools and solutions for knowledge" aims to innovate the industrial education and training processes through a technology platform based on virtual reality and augmented reality. This system, which can be used in the fields of industrial production, quality control and maintenance, acts as an enabling factor for the diffusion of the Industry 4.0 paradigms at the operational level through the review of staff training methods. The use of interactive technologies, capable of evolving the staff training methodologies, is aimed at reducing the times, costs and risks related to industrial training activities while increasing the competitiveness of companies in terms of industrial production and maintenance.
Financial Resources 
The project received 1.300.000 euro from the NOP Research and Innovation 2014-2020 under the action "Thematic Projects - Key Enabling Technologies - KETs" through the Fund of Funds for Research and Innovation managed by the European Investment Bank (EIB) and established to increase investment in research and development. The EU resources available to the Fund of Funds are invested through one or more financial intermediaries and may take the form of loans, equity or quasi-equity, or equivalent instruments.
Impact on the Territory
This research project falls within the Smart Specialization area "Smart Factory" and is part of the actions combining different enabling technologies for the development of new industrial solutions and the opening of new markets.
The beneficiary of the funding is Protom Group SPA, a company that operates internationally in the field of high-tech services. The company expects to increase its revenues starting from the third year of project implementation and to increase its staff by recruiting at least 4 full-time, highly qualified people.
---
21/04/2021
torna all'inizio del contenuto