Close to the earth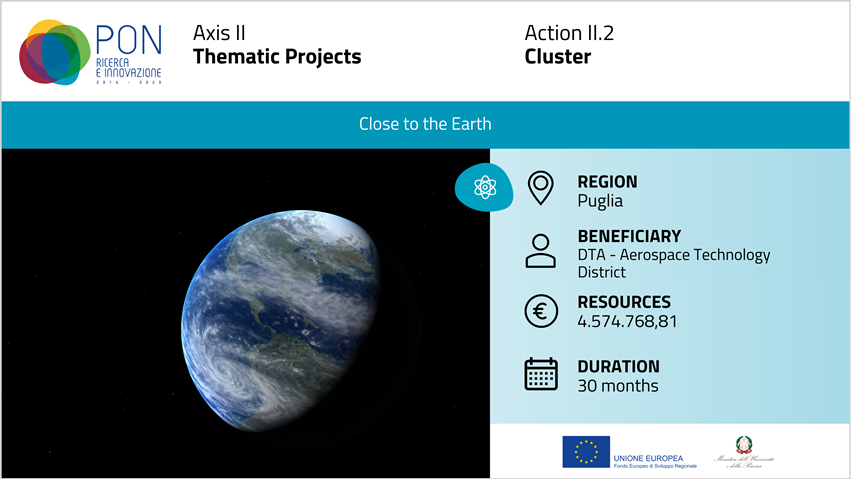 ITA | ENG


Project
In recent years, the space industry has developed a propulsion system concept (RAM-EP) which is able to use gases present in the atmosphere as propellant, consequently leading to an extension of the lifetime of spacecraft operating in very low Earth orbits. The "Close to the Earth" project intends to study this concept in order to build a RAM-EP propulsion system prototype whose main components are the atmospheric gas manifold and the Hall-effect thruster, which uses atmospheric gases as propellant. Specifically, the project aims to develop a new small class spacecraft (with a mass below 500 kg) able to host a RAM-EP propulsion system and operate at very low altitudes (Very Low Earth Orbit-VLEO), in the 160-250 km range, a region largely unexplored for spacecraft. At that altitude, previously unused for Earth Observation, this project will study new possible applications and useful services to be adopted with satellites and constellations: possible payloads (both optical and radar) that can be carried by the spacecraft, and the changes that can come from their use at such a low altitude.
The new spacecraft also has other elements of innovation since it will study aerodynamic issues to overcome friction and because the choice made by the project partnership to adopt relatively small and low cost spacecraft will give new impetus to Space Economy, which represents a leading sector in the development of the world economy in the coming decades.
Financial Resources
This 30-month project was funded by the NOP Research and Innovation 2014-2020 under Axis II "Thematic Projects", action "Clusters", which finances industrial research and experimental development projects in the 12 specialization areas identified by the National Research Programme (NRP) 2015-2020, in particular in the "Aerospace" specialization area. For the implementation of this initiative, a budget of 4.574.768,81 euro was allocated to the following beneficiaries forming the public-private partnership:
DTA - scarl Aerospace Technology District
"Aldo Moro" University of Bari
IMT srl
GAP - Geophysical Applications Processing
Impact on the Territory
The innovative aspect of the project is that it opens the way for spacecraft operating in very low orbits, with longer lifetimes and lower costs, thus increasing knowledge in a number of areas of the Space sector, many of which are of major international importance. By paving the way for the future commercial exploitation of these orbits, the project will give new impetus to Earth Observation services. In addition, it will contribute to the development of Italy's southern regions, helping them reach a world-leading position in the Aerospace sector while fostering the creation, both direct and indirect, of skilled jobs and increasing the attractiveness of the research institutions involved in the project. Increased competitiveness and the creation of sector-specific know-how will, in fact, consolidate new national and international technical-scientific relations and encourage new proposals for further development and specialization able to reverse the student and researcher migration flows to northern and central regions and abroad.
Further information (in Italian): 
L'industria dell'aerospazio in Puglia decolla
(La Repubblica del 31 ottobre 2019)
ENEA, al via "Close to the Earth": mini satelliti per informazioni sempre più precise
(La Stampa del 19 giugno 2019)
Al via Close to Earth, dati super-precisi con i mini satelliti Made in Italy
(Il Corriere delle Comunicazioni del 19 giugno 2019)
Il Miur finanzia il progetto Close
(da www.brindisitime.it del 18 gennaio 2019)
---
26/04/2021
torna all'inizio del contenuto