VASARI – Smart Valorization of the ARtistic Heritage of Italian Cities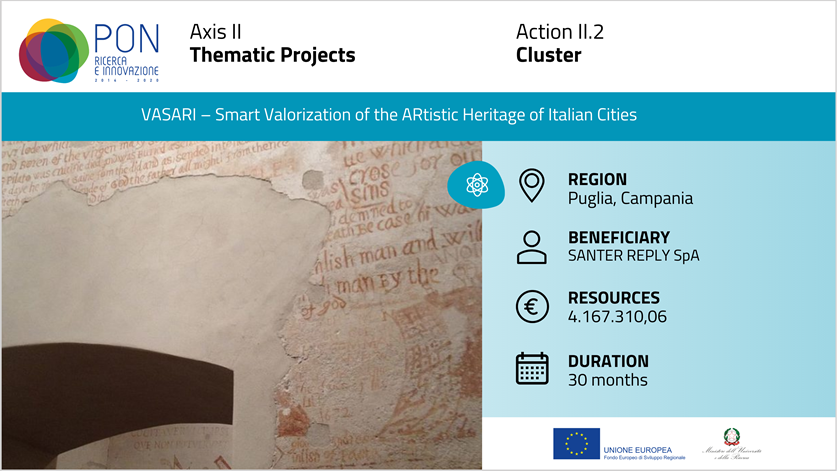 ITA | ENG
Project
"VASARI – Smart Valorization of the ARtistic Heritage of Italian Cities" combines the latest innovations in digital technologies, including augmented reality, to radically change the activities of valorization, fruition and management of works of art. The aim is to build a new cultural space where the physical spaces of museums and historical sites, with their art treasures, are integrated into the digital space of cultural content and services, based on a multi-site model. The aim is to develop a new cloud platform that integrates and makes accessible cultural content, data on the visits and sensing data on the context and physical spaces of the different VASARI sites and museums. This multi-site and territorial museum model will create and provide new services to both visitors and cultural institutions. It is an open platform that will encourage the development of more services by third parties and bring ICT innovation to all institutions.
Financial Resources
This 30-month project was funded by the NOP Research and Innovation 2014-2020 under Axis II "Thematic Projects", action "Clusters", which finances industrial research and experimental development projects in the 12 specialization areas identified by the National Research Programme (NRP) 2015-2020, in particular in the "Cultural Heritage" specialization area. For the implementation of this initiative, a budget of 4.167.310,06 euro was allocated to the following beneficiaries forming the public-private partnership:
SANTER REPLY SpA (lead partner);
@CULT Srl;
Officina Rambaldi Srl;
Illogic Srl;
Heritage;
Risorse Srl;
University of Milan;
University of Molise;
University of Salerno;
Databenc;
National Interuniversity Consortium for Informatics - CINI
Impact on the Territory
Through the project's platform, the local cultural offer can be scaled up to a regional and national level, bringing out and providing access to the minor cultural offer that is quite removed from the main tourist circuits. This approach has a two-fold advantage: minor institutions receive greater visibility and integration while major institutions can reduce what in many cases is a difficult load to sustain. In addition, the project will generate significant economic benefits and employment opportunities as it will:
promote and drive the development of a territorial economy linked to cultural tourism and that relies on the services provided by the digital platform;
allow young people to develop environmental and cultural skills linked to their territory and use them to offer services while remaining in their own territory of origin;
allow Italian cultural institutions to cut the costs of digital innovation with significant economic benefits related to the increased number of visitors;
allow proponent companies to expand their offer and develop their business through innovative skills and components;
enable technology transfer from universities and companies specializing in cultural technologies outside the convergence areas, implementing fundamental cooperation logics for the tourism industry.
---
26/04/2021
torna all'inizio del contenuto