CNRBiOmics - National Research Centre in Bioinformatics for "Omics" Sciences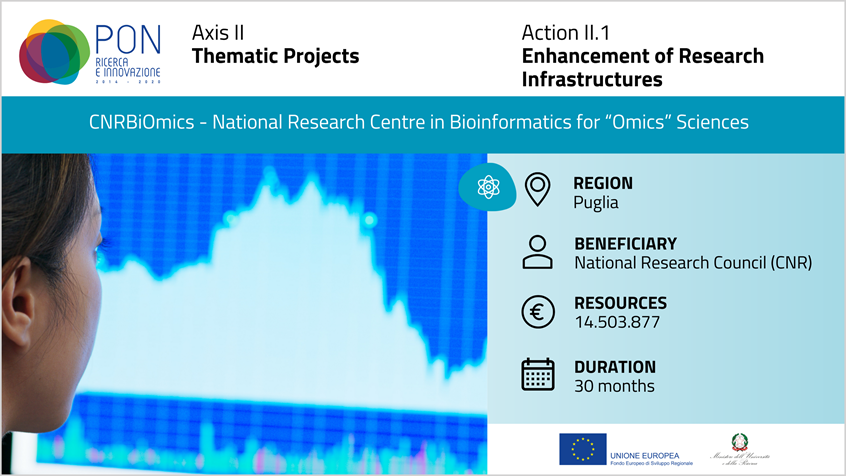 ITA | ENG
Project
The aim of "CNRBiOmics - National Research Centre in Bioinformatics for Omics Sciences" is to strengthen the Italian node of the ELIXIR (European Life-science Infrastructure for Biological Information) research infrastructure by creating a centre of excellence for the production, management and interpretation of omics data (genomics, metagenomics, transcriptomics, proteomics and metabolomics) with headquarters in the area of Bari. Responding to the modern need for large-scale production and analysis of genomic data, the project aims to create a distributed infrastructure with various regional nodes to support projects of national interest focused on the study of applications for Personalized and Precision Medicine and Life Sciences. The project involves the acquisition of the most advanced platforms available on the market, having unique and complementary characteristics, for:
production of massive nucleic acid sequencing data with second- and third-generation platforms, even at the single cell level, and their validation
proteomic and metabolomic analyses.
These instruments will be integrated with an ICT platform having high computing and storage capabilities (10K core, 15 PB storage) with a hub in Bari, and will be integrated with the existing ELIXIR infrastructure. The project also includes the upgrade of a postgraduate training platform to provide the necessary skills for the optimal use of the infrastructure.
Financial Resources
The project received 14.503.877 euro in funding from the NOP Research and Innovation 2014-2020, under the "Enhancement of Research Infrastructures" action which supports projects aimed at the upgrading of 18 research infrastructures identified as priorities by the Ministry of University and Research in the PNIR 2014-2020, covering one or more ESFRI (European Strategy Forum on Research Infrastructures) areas and having a significant impact on the trajectories of the National Smart Specialization Strategy.
Impact on the Territory
The beneficiary of the funding is the National Research Council, with operational headquarters in Avellino, Bari, Naples and Milan (Segrate).
The creation of an efficient infrastructure will make it possible to collect and analyse biological data based on European standards and provide open and easy access to data for all stakeholders, facilitating data retrieval, sharing and reusability. The improved ability to generate and interpret new biological knowledge has boosted our understanding of genetic and molecular processes underlying the functioning of living organisms, fundamental for tackling major challenges in the field of health, such as population ageing, food and environmental security. The impact of the genomic revolution is closely related not only to the amount of data available but also to the ability to actually manage them properly, store them in the long term, process them with appropriate tools and train skilled personnel with specific knowledge. A robust, effective and sustainable biological information infrastructure is essential for meeting Italy's strategic priorities, in particular in the biomedical and biotechnological sectors. In addition, the aim is to train professionals with interdisciplinary skills that are difficult to find in the labour market, capable of managing, curating and analysing the data produced through "multi-omics" processes.
Further information:
https://www.cnr.it/en/node/16209
https://www.area.na.cnr.it/?lang=en
---
11/11/2021
torna all'inizio del contenuto