Workshop Program Session 2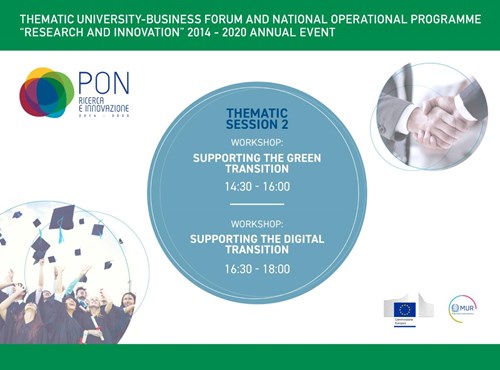 Thematic University-Business Forum and National Operational Programme "Research & Innovation" 2014-2020 annual event
UNIVERSITY-BUSINESS COLLABORATION IN A TIME OF RECOVERY AND RESILIENCE
Rome, February 22-23, 2022


Session 2 will contain two moderated workshops: one from 14:30 - 16:00 and one from 16:30 - 18:00
14:30 - 16:00 Workshop 2.1 - Supporting the Green Transition
According to the European Strategy for Universities (EC 2022): "the EU will only meet its ambitions on equipping more young people and lifelong learners with digital skills and skills for the green transition, or developing green solutions through technological and social innovation, if the higher education sector pulls its weight". This panel of experts from HEIs, EIT and relevant NOP projects will present existing initiatives that support Green Transition via university-business cooperation.

Moderator: Luca Basile, University of Bologna
Speakers:
Alessandro Leonardi, Managing Director, Etifor | Valuing Nature, Coordinator and promoter of 3 Erasmus+ Knowledge Alliance: Ecostar Hub, Green4Care, and UForest  SLIDE
Luise Heidenreich, Co-Head of Education and Learning at EIT Climate-KIC  SLIDE
Franco Coren, INOGS, IPANEMA project - funded by  the National Operational Programme
Letizia Magaldi, Executive Vice President Magaldi, Foak STEM project - funded by the National Operational Programme  SLIDE


16:30 - 18:00 Workshop 2.2 - Supporting the Digital Transition
According to the European Commission, digital solutions that put people first have the potential to open up new opportunities for businesses, encourage the development of trustworthy technology, foster an open and democratic society, enable a vibrant and sustainable economy, help fight climate change and achieve the green transition. This workshop will outline some initiatives and experiences carried out in different fields and supported by European Funds.

Moderator: Paola Inverardi, University of L'Aquila
Speakers:
Marika Huber, project manager of the Erasmus+  Knowledge Alliance "DIFME"
Katharina Engel, Senior Desk Officer Digital Internationalisation & European - Higher Education Policy at German Academic Exchange Service (DAAD), European Digital Education Hub   SLIDE
Giovanni Zappatore, CEO BionIT Labs - Adam's Hand project -  funded by the National Operational Programme  SLIDE
Pietro Ferraro, CNR -  SIRIMAP project -  funded by the National Operational Programme



---
16/02/2022
torna all'inizio del contenuto