Gelesis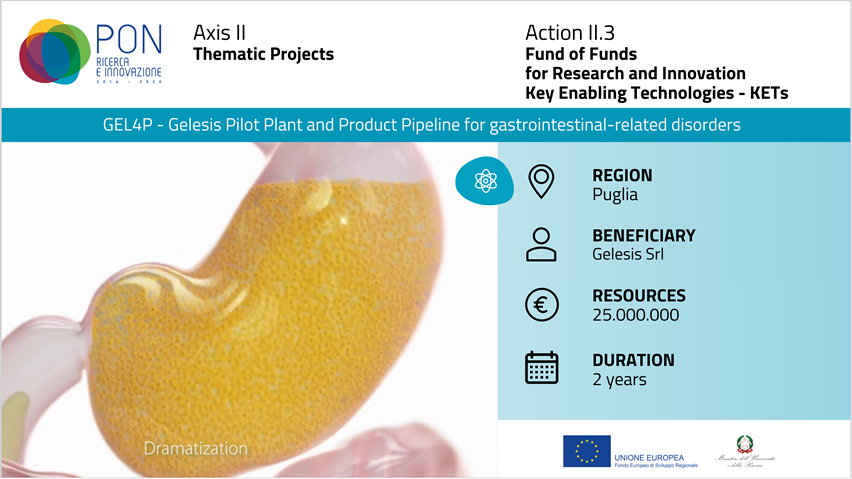 ITA | ENG
Project
"GEL4P - Gelesis Pilot Plant and Product Pipeline for NAFLD/NASH and other gastrointestinal-related disorders" aims to expand the platform based on a novel superabsorbent hydrogel through new research and clinical studies and to transfer into a pre-industrial setting the initial research results which were incorporated into the Plenity prescription medication. Based on the use of a superabsorbent hydrogel, Plenity is an innovative weight loss aid for overweight or obese patients with a BMI between 25–40 kg/m2. The next step is to design, develop and test the efficacy and safety of new products for the treatment of specific gastrointestinal disorders, such as NASH (Non-Alcoholic SteatoHepatitis), glycaemic control in obese patients with type 2 diabetes/prediabetes, and chronic idiopathic constipation. The end goal is to obtain all the necessary authorizations and approvals by the medicines regulatory authorities for all these products.
Financial Resources
The project received 25.000.000 euro in funding from the NOP Research and Innovation 2014-2020 under Action "Thematic Projects - Key Enabling Technologies - KETs" through the Fund of Funds for Research and Innovation managed by the European Investment Bank (EIB) and established to increase investment in research and development. The EU resources available to the Fund of Funds are invested through one or more financial intermediaries and may take the form of loans, equity or quasi-equity, or equivalent instruments. Specifically, this project received risk finance investments in the form of equity and quasi-equity instruments.
Impact on the Territory
The beneficiary of the financing is Gelesis Srl, a company based in Calimera, near Lecce, which carried out, on behalf of the Group, all the research and development activities related to the hydrogel-based technology, as well as the production services of the products to be used in the clinical trials. Gelesis Srl will play an important role in the Group's transition from research organization to a complex, industrial organization. The research activities will be carried out at the Calimera site, where a pilot plant will be built in order to scale up hydrogel production, test the process and support further research activities on the hydrogel platform. After research and testing activities, the pilot plant on a pre-commercial scale will later become an integral part of an industrial plant. The number of employees at the Calimera site is expected to grow to 160 people in 2023, with the hiring of about 130 new employees.
Further information:
Startup pugliese sbarca a Wall Street con una innovativa pillola contro l'obesità: storia di un successo che in Italia arriverà nel 2023
(da La Repubblica del 20 gennaio 2022)
Gelesis, sbarca a Wall Street l'azienda italiana della pillola anti obesità
(da Il Corriere della Sera del 18 gennaio 2022)
Quotata a Wall Street la pillola anti obesità creata in Italia: da noi arriva nel 2023
(da Il Giorno del 18 gennaio 2022)
---
23/06/2021
torna all'inizio del contenuto